Leaksville Boys Win Northwest Cage Tournament
(Winston Salem Journal and Sentinel)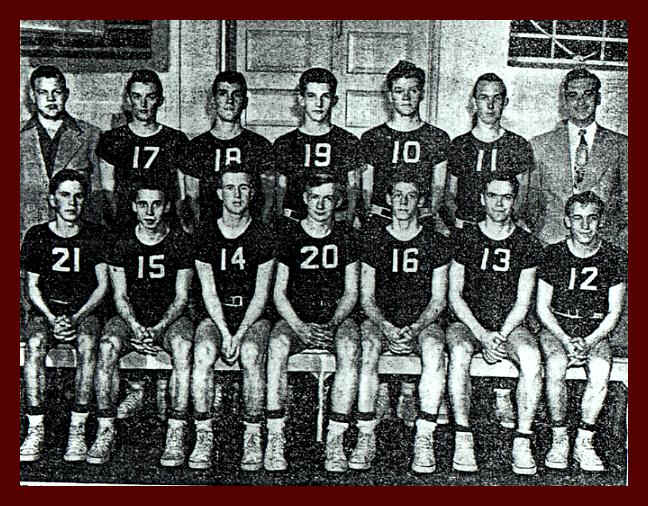 THE 1949 CHAMPIONS--Leaksville's High School basketball team won the 23rd Winston-Salem (NC) Journal and Sentinel Northwest Basketball tournament last night. They are, front row, left to right, Billy Hill, Kent Moseley, Richard Carter, Kenneth Harter, Bill Hawkins, Fred Smith, Donald Smith. Second row, left to right, Manager James Black, Gerald Warren, Bud Roberts, Numa Martin, Winfred Hoover, Tommy Dunovant, and Coach Ray Rhodes.
It was a cleanly-fought game from start to finish, although it was one of the hardest fought seen in many a day in Hosiery Gym. (Photo submitted by Richard Carter)
During the tournament Leaksville defeated Fairgrove, Mt. Ulla, Germantown, Elkin, King, Francisco, and Kernersville (38-34).

Fairgrove (Thomasville) had Darryl Floyd, later to be an All-American at Furman. He also led the nation in scoring. They were the only easy win in the Tourney for us. Many well-known and larger schools were defeated in the early rounds.
Mt. Ulla, between Salisbury and Mooresville had the Graham Brothers, who later played at Catawba College. They had a rather formidable team.
King had a very good team, all about the same size, 5'10" - 6' tall.
Elkin gave us a tussle. Jurney (6'3" blond center) was an excellent post man. Sam Shugart (guard) was an excellent player.
Germantown had a high-scoring guard, Robert Holder (25 PPG). Kent Moseley held him to four points. They played a tough game.
Francisco (Surry County) was led by the Collins Brothers. They played LHS a close game. They were previous winners the year before.
Kernersville had several college prospects: Jack Musten, Young, Van Hoy. Musten played at Elon, and was also an excellent baseball player (catcher) in the Western Carolina League. Coached at Glenn High School (Kernersville).
Leaksville High School...Bill Hawkins played at Elon and was captain of the team his senior year. Numa Martin played at Western Carolina and was also captain of the team his senior year. Kent Moseley played at North Carolina State, Lees-McRae, and High Point College. Fred Smith and Philip Brown (not pictured) played at Lees-McRae. Gerald Warren played at Asheville-Biltmore (now UNC-Asheville). Bud Roberts played at Lees-McRae before succumbing to homesickness.
(Notes by Richard Carter)
---