William "Bud" Howe Scrapbook
Click on the pictures below for a larger view: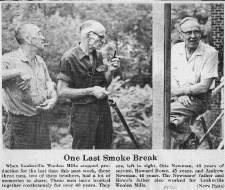 4
1- Ms. Moir's First Grade Class (Leaksville Grade School - 1949)
2- Bud Howe and his first fish ( yellow perch, caught in the canal at Leaksville-Spray Woolen Mill, early 1950's). I sat on the fish while my father Howard Howe and his friend Harvey Stewart look for a stringer.
3- Leaksville Spray Jr. High Elfs
4- One Last Smoke Break (Closing of Leaksville Woolen Mill - 1970 Eden News Photo). Left to Right are: Otis Newman, 48 years service; Howard Howe, 45 years service; Andrew Newman, 46 years service.
---