King Memorial Baptist Church in Leaksville
811 West Avenue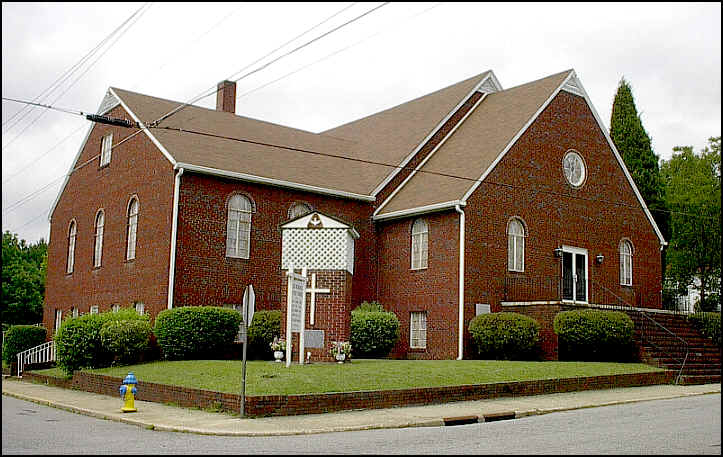 King Memorial Baptist Church was the first church in New Leaksville. Its history may be traced to 1919 when Leaksville's First Baptist Church established a building committee to erect a mission in the mill village. Members of the First Baptist congregation contributed to the building fund and the church was finished in 1920 on a lot donated by Marshall Field and Company. Originally named Five Points Baptist Church, the New Leaksville congregation later adopted its present name in memory of Dr. Frank King, Sr., an active member of the First Baptist Church for several decades. The King Memorial building has been considerably altered with the removal of a corner belfry, construction of sizable wings to the front and south side, and application of brick veneer.

Leaksville Moravian Church located on 712 McConnell Avenue, completed in 1929.


Leaksville Moravian Church

When a number of Moravians from Mayodan moved to nearby Leaksville in the early 1920's to work in the new cotton mill there they naturally wanted to take their church with them. And they did just that.

At first in the summer of 1923 they held meetings in an "upper room" above a store. Then they invited their pastor, Howard G. Foltz of Mayodan, to preach. He held his first formal Moravian service in Leaksville on August 5, 1923, in the local YMCA.

Quickly the idea developed that Leaksville should be a permanent work. A Sunday school was organized in July 1924, and a Moravian society formed that December 5. Early the next year J.K. McConnell, secretary of the Leaksville Y, took an interest and began preaching. The Marshall Field company offered a building lot, and the Leaksville Moravians began raising money for a church from among themselves and "friends of the enterprise."

The cornerstone of the Leaksville church was laid on July 8, 1928, and the building was formally opened that October 7 with the Matilda Ward class of Home Church and Bishop Edward Rondthaler holding a lovefeast. With Mayodan's full approval, Leaksville Moravian Church was organized as a congregation of the Southern Province on April 21, 1929.

Leaksville weathered the Great Depression and World War II, and with growth in the 1950's the congregation added a new Christian education building and belfry and renovated the church. From 1970 until his retirement in the summer of 2002, Leaksville's pastor was John Christman. He had come down from Pennsylvania for "only a couple of years."

As the only Moravian church in an area of many other denominations, Leaksville has been strong in ecumenical endeavor. In 1979 it helped establish the Community Christian Ministries of local churches, which provides emergency food, fuel, and shelter to those in need.

Though many of its members are not of Moravian background, Leaksville Moravian Church provides a "Moravian witness" to the community with such services as Christmas Eve, Holy Week, and Easter morning.