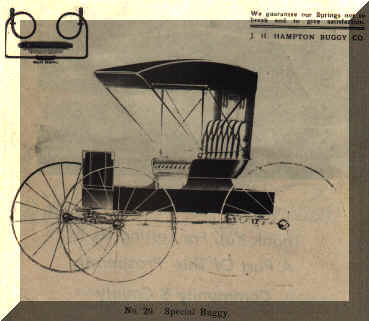 J. H. Hampton Buggy Company
(1879-1922)

The J.H. Hampton Buggy Company, with a line of about 20 different buggies, carriages, and surreys was once a thriving business in Leaksville.

In 1879 there were only about 100 people living in the area when James Harris Hampton returned to his hometown of Leaksville and built a long, wooden, one-story building with a large brick section for his buggy company. He also built Hampton Wagon Works where straight bed wagons were made.

For as little as $55 you could buy a "special" which had an open body 20-22 inches wide and 55 inches long, with cloth or leather trimmings. For $125 you could get a two-seater surrey with a fringe on top and "no.1 leather." A two, three, or four-seater drummers' hack (for traveling salesmen) could be bought from $125-$150.

Extras included $4 for stick seats, $5 for brakes and $5 for sunshades. The livery stable was located near the Duke Power Company.

About 35 skilled craftsmen were employed at the buggy company which had one of the first assembly lines in the area. Except for springs and solid rubber tires, all buggy parts were made in the factory. Buggies from the factory were shipped as far south as New Orleans and as far west as California.

J. H. Hampton inherited property from his father, Madison Jenkins Hampton, a leading Leaksville merchant, when he returned home in 1879. He had left Leaksville when he was 18 to learn the carriage and buggy trade from the Klyce family in Alamo, Tennessee. While he was there, Hampton married Rebecca Klyce (1850-1896). They had seven children.

Hampton's buggy company was located where Jimmy Wright's car dealership is today on the corner of Washington and Patrick streets in down-town Eden. Only a brick wall of the old buggy company remains intact.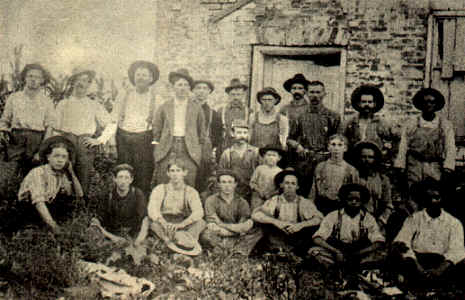 Work force at J. H. Hampton Buggy Company including J. H. Hampton, Sr., pictured (back row) third from left, and his son William Walter Hampton , standing at his father's side to the left.

Hampton's son, William Walter Hampton, purchased the business in 1901, and began to phase out the buggy business in 1917 to make way for the automobile. Hampton Motor Company replaced the buggy company. Hampton began selling Studebakers.

The last Hampton buggy was built in 1922, about the time when paved streets were being introduced into the area.

J. H. Hampton gave much of his time and talents to helping Leaksville grow and develop into a thriving town. He served as town commissioner in 1892. He spent much of his last years at his country home on Matrimony Creek where he had purchased 600 acres of land in 1905. During World War I he was involved in Red Cross work. After his first wife, Rebecca Klyce died, Hampton married Arabell Martin. They had one son, James H. Hampton, Jr.

J. H. Hampton, Sr. died in 1918. An excerpt from his obituary in the Leaksville newspaper said, "He did not have to borrow ideas; his was a head for the mechanical, an eye for the artistic, a strong, willing hand to execute, and a robust honesty to give full value by the unification of these natural and acquired talents."

---

Today it's rare you will see a buggy or carriage travel down the road. The automobile quickly took over as a primary form of transportation and over the years became easier for people to purchase and loans also became available. Even with bad credit, people can apply for auto loans.

---

J.H. Hampton Buggy Company as it looked in the late 1800s.