Leaksville-Spray NC John Ray Building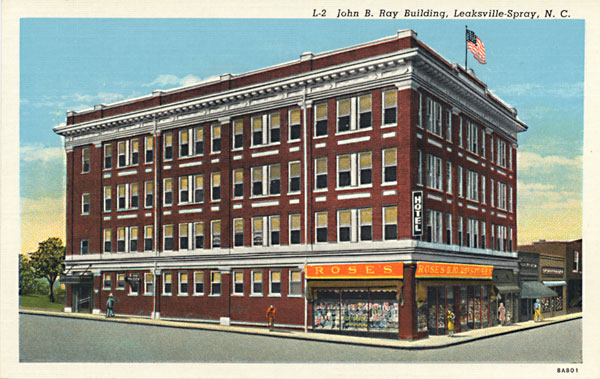 Here's a postcard with a picture of the John Ray Building. This building housed a Roses 5, 10 & 25 Cent Store as well as a hotel. (Submitted by Harrison "Big Red" White and Carl "Buddy" Grohs)

Available for Restoration:
Preservation North Carolina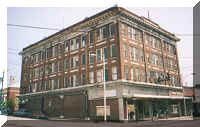 The Realty Building/John B. Ray Building
625 Washington Street, Eden Rockingham Co.
Price: $135,000
The most prominent structure in the Leaksville National Register Commercial Historic District, this brick commercial building was erected in 1924-25 and was purchased in 1937 by John B. Ray when the Central Hotel operated on the upper floors. Despite some unsympathetic changes to the Washington Street storefronts, the upper elevations of the building remain unaltered. Brick pilasters running through the upper stories and a rich application of limestone detailing characterize the handsome Neo-Classical Revival Style design. The building was home to many prominent office and commercial tenants before it was converted to apartments. It will require complete rehabilitation as part of an adaptive reuse plan. Eden is located north of Greensboro between US 220 and US 29.
Square feet: 23,000 plus 6,000 in basement
Lot size: 66.5' x 100'
Zoning: Commercial
Contact: Preservation NC Winston-Salem Regional Office 336/788-0765

Candidate for tax credits.
Back to Photos